The Real Estate Mango
The Real Estate Mango blog. Your source for real estate information.
GOLDEN SANDS The former GOLDEN SANDS Hotel and Spa at 6901 Collins Avenue, a block north of the Canyon Ranch, has been sold to a joint venture that plans to develop a boutique residential tower on the property. The luxury 20 story tower with only 14 residences on the oceanfront property. Each unit would occupy an entire floor, with a 7000 square foot penthouse taking up the top two floors. The venture hopes to start construction later this year. The very strong housing...Continue Reading!
The Real Deal South Florida Market Report is now a supplement inside the April Issue of The Real Deal. Inside this 70 page report you will find all the information on the latest condo boom from Brickell to Midtown Miami.Continue Reading!
ALTON ROAD, next to the flyover, at the end of MacArthur Causeway may get the tallest condo in the city. The Related Group and Crescent Heights want to build a 50 story residential building. The new condo tower would only have 4 units per floor.  Most of the condos would be priced at $2 million.  The penthouses would sell for $10 million. Related Group and Crescent Heights are calling public meetings to build support going into the city approval process. Continue Reading!
A new study says that the MIAMI HOUSING MARKET will see home prices rise by 14% FROM 2012 TO 2018 according to the latest report from the Demand Institute.  We have already seen prices rising steadily for two years, now and we will see that the new construction prices are higher than any existing comparables. This information will be very useful to you, going forward.  If you are thinking of buying a home, now is the best time.  There are  still...Continue Reading!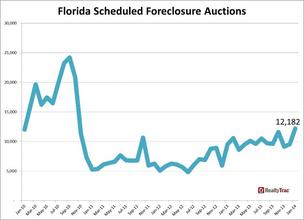 According to Realty Trac  South Florida again leads the nation in foreclosure filings.  There were 10,302 foreclosure filings in Florida in January.  This is a 50.4% surge from December. The foreclosure crises will linger a bit longer, even as South Florida home prices heat up.Continue Reading!
Thousands of young people are demonstrating in many cities in Venezuela.  They are protesting the unjust government that fails to represent the people.  They are appalled at the murders that have been recorded over many months. They feel that the government has taken social media off air and off line.  The government has shut down Twitter.  Freedom has been shut down.   SHARE  THIS VIDEO https://yrj8usi8t5zbg6zcefy4.r.worldssl.net/video/que-el-mundo-sepa-whats-going-on-in-venezuela-en-ingles/#.Uv_oSfMtaPQ.facebookContinue Reading!
Ron Shuffield of EWM International Realty and David Siddons remark on the fabulous strides Miami has taken in real estate, tourism, banking and technology. But is the gap growing between those who can afford the luxury properties and the middle income families. http://www.bbc.co.uk/iplayer/episode/p01qt673/Business_Daily_Miami_Success_in_the_Sunshine_City/ Continue Reading!
Throughout the United States, the perfect time to sell your home depends on weather, school year, holidays, etc.  Of course, here in Miami, we are blessed with mild weather all year round but the there are a couple of factors that affect our perfect time to sell, also. Tax season, encourages people to think about their finances.  Should they sell their home that is too expensive or do they decide they can afford a more expensive one. School districts attract people with...Continue Reading!
Real Estate professionals believe that 2014 is set up to be a positive year for real estate. According to a U.S. Economic outlook report a 9% a year over year increase will be seen in the first quarter of 2014.  The National Association of Realtors predicts the third and fourth quarter will experience year over year increases of 54% and 33% Everything looks promising but there are some questions...the future of interest rats are uncertain.  Inventories are still low and if  the...Continue Reading!
In 2013 the average size of a new single family home rose. It is thought that the increase is due to the non typical buyers in the market place.  This is an interesting phenomenon showing that buyers from various parts of the world have different needs.  http://eyeonhousing.org/2014/01/13/average-size-of-new-single-family-homes-continues-to-rise/ Continue Reading!