The Real Estate Mango
The Real Estate Mango blog. Your source for real estate information.
Archive for the 'Market Trends' Category
According to Realty Trac  South Florida again leads the nation in foreclosure filings.  There were 10,302 foreclosure filings in Florida in January.  This is a 50.4% surge from December.
The foreclosure crises will linger a bit longer, even as South Florida home prices heat up.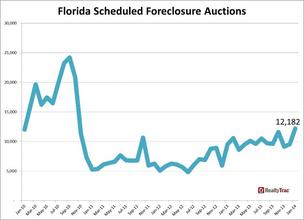 Thousands of young people are demonstrating in many cities in Venezuela.  They are protesting the unjust government that fails to represent the people.  They are appalled at the murders that have been recorded over many months.
They feel that the government has taken social media off air and off line.  The government has shut down Twitter.  Freedom has been shut down.   SHARE  THIS VIDEO https://yrj8usi8t5zbg6zcefy4.r.worldssl.net/video/que-el-mundo-sepa-whats-going-on-in-venezuela-en-ingles/#.Uv_oSfMtaPQ.facebook
Real Estate professionals believe that 2014 is set up to be a positive year for real estate.
According to a U.S. Economic outlook report a 9% a year over year increase will be seen in the first quarter of 2014.  The National Association of Realtors predicts the third and fourth quarter will experience year over year increases of 54% and 33%
Everything looks promising but there are some questions…the future of interest rats are uncertain.  Inventories are still low and if  the demand stays high with more buyers than properties…prices may go sky high.
New construction is still flourishing.  According to Chris Zoller of EWM the increase in inventory will come from new construction.
Flood Insurance decisions by the federal government will impact sales and may prove problematic.http://miamiagentmagazine.com/new-construction-expansion-employment-miami/
In 2013 the average size of a new single family home rose.
It is thought that the increase is due to the non typical buyers in the market place.  This is an interesting phenomenon showing that buyers from various parts of the world have different needs. 
http://eyeonhousing.org/2014/01/13/average-size-of-new-single-family-homes-continues-to-rise/
This month starts the second year of Water Taxi Miami.
These boats will add passenger pick ups, and an on call service which will be like a regular land taxi.  It can go at fast speeds and reach distant places like Dinner Key, downtown Miami, and Bayside and Miami Beach among others.
People with
Florida Ids will have a 50% discount.http://www.miamitodaynews.com/2014/01/15/water-taxi-miami-expands/
CHRISTIE'S INTERNATIONAL REAL ESTATE has a new report out called ATLANTIC INSIGHTS.   This publication has the pulse of the luxury market world wide.
The 3 Top Luxury Markets in the world are London, MIAMI, and New York.
These cities offer the most cultural, business, and transportation accesses world wide.
Homes in these cities are being built at a tremendous rate.  And prices are climbing exponentially.
In Miami Beach, the "Palazzo D'Oro" penthouse at the Mansions of Acqualina is listed at 55 million.  This is the most expensive listing in South Florida.
WHO ARE THE BUYERS?  Wealthy people from all over the globe are gravitating to these cities.  Many are the new  young millionaires who are looking for fantastic amenities, many of them need more athletic amenities, more waterfront amenities.
We are proud to be an affiliate of Christie's International Real Estate.
Please call me today 305 607 1943 for more information on luxury real estate in South Florida.
/thtHEerealdeal.com/miami/blog/2014/01/15/luxury-residential-sales-rise-in-miami/
The Luxury Market in Miami saw an increase of almost 400 houses and condos that sold for $1 million dollars or more.
The volume of sales is driving the escalation, not the price of each sale.  This is a sign that domestic buyers are  back in the market .  However, prices are still very attractive to the foreign buyers.
We are less expensive than other markets, like New York City, but that will soon change.  The new waterfront construction is being built to sell at over $1500 a square foot.
tH
According to Peter J. Wallison, senior fellow of the American Enterprise Institute, America is heading toward another real estate bubble.  Wallison writes today in the New York Times, that housing prices are driven up by the ease of obtaining a mortgage with low down payments.   For instance, the Federal Housing Authority requires only a 3.5% down payment for qualified buyers and Fannie and Freddie Mac require merely 5%.
Times past, it was 20% down as the norm and occasionally 10% down.  Now people are being encouraged to buy with the tempting miniscule down payment.
Banks are left with no leverage.  People have little financial risk.  As is said, "they have no skin in the game". These buyers will prefer to buy rather than rent because it will be cheaper to buy.  The monthly payments are low.  When their personal finances take a dive, and they can no longer afford the monthly payments, they simply walk away.  Thus, the huge rate of foreclosures in the last real estate crash.
This allows buyers to buy very expensive homes.
Housing bubbles result from this scenario.
There are many people to blame for this…Congress who wants to promote the ability of banks to create and sell many mortgages, the builders who want to sell their products and brokers.
Ultimately, there will be a price to pay.  This all drives up house prices to abnormal levels and when it crashes, millions of dollars are lost.
Home Sales are stabilizing after several months of declines.  The New York Times reported on December 31, that almost the same amount of homes was sold in November as in October.
The  National Association of Realtors reported that the seasonally adjusted index for pending home sales ticked up to 101.7 from 101.5 in October
The reason for the slower sales was twofold…higher mortgage rats and strong price gains over the last two years have slowed sales.  The pending home sales index had fallen for five straight months before November.  Sales of existing homes fell for three straight months.
The average interest rate on a 30 year mortgage edged higher to 4.48 percent last week, from 4.47 percent the previous week.
Despite the recent declines, sales of existing homes should reach 5.1 million in 2013, the highest total in seven years.
The association forecast that sales would  remain largely flat in 2014 and then rise to 5.3 million in 2015.
HOUSE PRICES RISE AGAIN, BUT AT A SLOWER PACE
Now we can talk about house prices.  Home prices kept rising in October.  Year over year prices were up 13.6 percent, the biggest gain in more than seven years.
Looking forward, house prices will rise at a slower pace and high mortgage rates may cause the rise in prices to reduce to single digits.
So as a cautionary tale….price your home for sale realistically…don't count on the market rising to meet your demands.
It is still a very good time to sell and there are wonderful properties to buy.    PLEASE CALL ME 305 607 1943 FOR AN APPOINTMENT TO ASSESS THE MARKET VALUE OF YOUR HOME!
Depending on where you live in the country, there are some interesting trends in amenities that luxury homebuyers are looking for.   According to the Real Estate Lab Report of Trulia real estate there are 20 trends.
marble baths
roof deck
oversized windows
storage space
terrace
floor to ceiling windows
ceiling windows
marble floors
wine room
gym
tennis court
private elevator
large windows
wood burning fireplace
outdoor kitchen
summer kitchen
pond
panoramic views
ocean views
walk in closets
The home luxuries that are trending down:
BBQ
hardwoods
plantation shutters
covered patio
lush landscaping
custom cabinets
fireplaces
double sinks
stainless appliances
pool
gated community
center island
bonus room
granite counters
formal dining
formal living
surround sound
gourmet kitchen
large master suite
breakfast area
Times are always changing.  Luxury is constantly being redefined.  Many people want to be near great restaurants and don't feel the need to have a gigantic kitchen at home.
Many people want to have light and views above all else.
TO SELL IN TODAY'S MARKET, IT IS WISE TO  SHOWCASE THE AMENITIES THAT ARE CURRENTLY  IN VOGUE!   
CALL LEE HEUER 305 607 1943 TODAY FOR AN OPINION OF VALUE.